Troubleshooting Guide
Your game has crashed and you've received this error message? Then read this post on how to resolve this.
Error:
d3d_device_context_ -> Map at rglGPU_device::lock_texture Failed! The GPU device instance has been suspended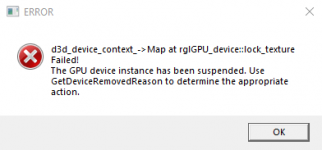 Shaders Fix
Browse to "C:\ProgramData\Mount and Blade II Bannerlord\".
Delete the "Shaders" folder.
Verify your game files through Steam of the Epic Store. This will download the missing files.
- Epic Store: Open the Library and click on the 3 dots below Bannerlord. Then choose "Verify".
- Steam: Right-click on Bannerlord and choose "Properties". Go to "Local Files" and choose "Verify Integrity of game files..."
Update Graphics card drivers
Check for updates to your graphics card (videocard) and install the latest update.
Disable Shaders in Nvidia Control Panel (Nvidia graphics cards only)
Open the Nvidia Control Panel.
Go to "Manage 3D Settings".
Change the "Shader Cache" to "off".
Limit Bannerlord fps
Run Bannerlord Online (or single player if not possible).
Press Escape and go to Options.
Go to Video options.
Reduce the value for "Frame Limited" to 60. This will greatly reduce the CPU load.