Troubleshooting Guide
You're trying to install Bannerlord Online and you've received this error message?
Error:
Game not found in selected folder! Please, select game folder.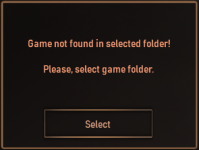 Xbox Game Pass (Microsoft Store)
For users of the xbox gamepass version of Bannerlord, which is installed through the Microsoft Store on PC.
There is unfortunately no solution.
The Bannerlord version as is installed through the Microsoft Store has a different folder structure and different files, compared to Bannerlord when installed through Steam, Epic Games Store or GoG. These differences render the gamepass version incompatible with Bannerlord Online and the developers have no plans to support the gamepass version.
In addition, the Microsoft Store version may also receives updates from Taleworlds with a significant delay, which would render the game outdated and also incompatible with Bannerlord Online.
You can check below information to see just how difference the Microsoft Store version is.
Xbox Gamepass
Folder structure:​
XboxGames\Mount & Blade II- Bannerlord\Content\bin\Gaming.Desktop.x64_Shipping_Client​

​
Steam
Folder structure:​
steamapps\common\Mount & Blade II Bannerlord\bin\Win64_Shipping_Client​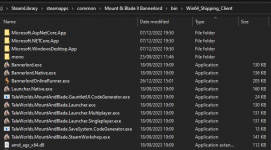 ​